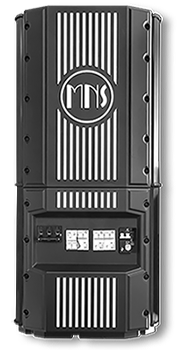 MNROSIE7048RE
(Shown with
optional E-Panel)
Reasons For Purchasing a ROSIE INVERTER!
The well designed and attractive looking ROSIE Inverter is easy to use and is extremely adjustable. A lot of the AIO (All-In-One) units miss the mark. They lack grid support functionality with the ability to add power from the battery to support loads greater than the AC IN allows as an example.
Reparability is an important feature of the ROSIE! Many of our large distributors are stocking boards to do field repairs. MidNite is rolling out a plan to allow installers buy boards at low cost to keep boards on hand.
The ROSIE has great redundancy, when an AIO fails it needs to be completely replaced. When a ROSIE or MPPT fails you can replace part of it and not lose the complete system.
The ROSIE or MPPT charge controllers (Hawke's Bay and Barcelona) will suffer no damage if the BMS or a breaker opens under full load. A lot of our competition will suffer severe damage if their units open the battery breaker under a heavy load.
The surge power on the ROSIE is second to none! MidNite has installers and distributors doing amazing things with ROSIE's surge power. I Ryan Stankevitz, personally watched a distributor's stacked ROSIES doing 9-10,000 Watts and we physically shut down the slave and the master just kept going. The single ROSIE would not be able to sustain such a severe overload for forever, but it performed incredibly. The lights didn't even blink! Starting motor loads is a cake walk for Rosie and she will start a 11kw 120v load on unbalanced legs. Try any of that with the Offshore AIO units.
The ROSIE has amazing flexibility in use and system scale/design. MidNite has heard a lot of feedback that the all-in-one inverters are a flash in the pan. Once you get into their functionality, you're forced into steps or sizes that are not convenient for the user's needs. For example, if 7kw of inverter and only 2 MPPTs is needed, 1 ROSIE and 1 Barcelona could be used vs two or three AIO that would end up with 6 MPPTs and only 2 needed.
The Hawke's Bay and Barcelona charge controller's 185-600V window is one of the widest in the industry. MidNite has no issues if you are on the high side or low side, the Hawke's Bay and Barcelona work across the range. Actually, MidNite is working on a special algorithm to allow the Hawke's Bay and Barcelona to go down to 100v or lower.
The ROSIE'S system software can be update for future enhancements via blue tooth.
The ROSIE E-panel has a 120/240VAC 60 Amp AC bypass. The version of this E-Panel for stacked ROSIE has a 100 Amp AC Bypass. AIO inverters never have an AC bypass. AC bypass switches have been standard in North America for 30 years. When you live off-grid, an AC bypass switch is important.
The ROSIE E-Panel system (MNE300ROSIE-240P) has room for an additional 5 breakers. The stacked ROSIE system (MNE300ROSIE-240P100 and MNE300ROSIE-240F) has room for an additional 8 breakers.
ROSIE's E-panel accommodates 150VDC to 600VDC PV breakers plus the MPPT battery breaker.
The ROSIE E-panel accommodates SPD's (surge protection devices) for AC in, AC out, PV in and Battery circuits.
The ROSIE weighs only 43 pounds. Compare that to any other inverter in its class.
ROSIE's Power Save Mode drops idle power from 25 watts down to 5 watts when no loads are present.
The ROSIE has a multitude of aux features available from its two aux circuits. The most in the industry.
MidNite listens and makes the changes needed to make our product work the way the installers/users need.
If in the rare instance support is needed, MidNite's Support is just a phone call or email away!
THE ROSIE IS MADE IN THE USA!
Barcelona (MNBCLNA)
Building on MidNite's legacy of feature rich, innovative charge controllers we proudly introduce the Barcelona. Leading the way as the industry's most powerful MPPT controller available the Barcelona boasts a massive 200A combined output. Dual 600v MPPT inputs allow you to save time and money on your installation by minimizing the need for wire runs, combiners and overcurrent protection while tracking two separate solar arrays independently. The Barcelona can be seamlessly integrated to the Rosie inverter using the built in MNGP2 graphics panel allowing you to view and adjust settings for your entire system from a single display. The innovative and sleek styling of the Barcelona's rugged aluminum chassis insures beauty and durability for years to come. Designed and assembled in America!
Use MidNite's String Sizing Tool to help configure your array!
Hawke's Bay
(MNHAWKE'S BAY 90 & 120)
MidNite's Hawkes Bay 600v MPPT charge controller offers all the same great features as our Barcelona but in smaller 90a and 120a single input versions. It features Blue Tooth connectivity to simplify firmware updates and a large display with rotary knob for easy navigation of the menus. The Hawkes Bay allows for fully customizable battery settings allowing it to be paired with virtually any chemistry on the market. The Hawkes Bay is built by one of the industry's most trusted manufacturers, proudly assembled in the USA and backed by the best technical support in the business. Perfect for a mid-sized solar system or add multiple units for large capacity redundancy.
Use MidNite's String Sizing Tool to help configure your array!