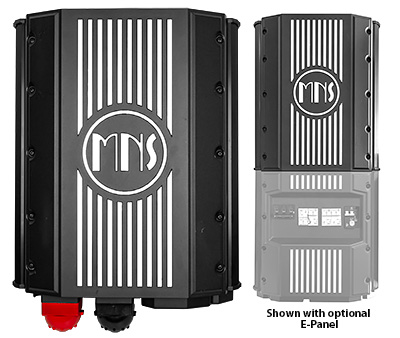 Model
Price
MAPP Price
Size
Shipping
Weight
MNROSIE7048RE
$4,350.00
$3,262.50
13-15/16 W x 20-9/16L x 8D
18 W x 23-1/4 L x 12-1/4D
43 lbs
DESCRIPTION:
Introducing our latest innovation in power technology - our sleek and stylish Rosie inverter, designed and made right here in the United States. Powered by the latest silicon technology, this powerhouse can surge up to 3X its rating, yet remains incredibly lightweight, making it easy for a single person to install.

Not only does our Rosie inverter deliver exceptional performance, it perfectly pairs with any of our MPPT chargers to create a seamlessly integrated and visually stunning power system. Together, they deliver an unbeatable combination of power and efficiency, Trust in the reliability and sophistication of our new inverter/charger to take your power system to the next level.
Provides 120 or 120/240VAC output in one unit
7000 watts / 48 volt DC
120 amp charger
2 aux input/outputs
True sine wave inverter with charger
Listings: UL1741, UL458 & CSA
Screened (gecko/mud dauber proof)
Quiet forced air cooling over heat-sink fins and transformer compartment
SOC monitoring with MidNite Wizbang Jr. and MNGP2
Die cast aluminum enclosure
Auto gen start (two-wire generators)
BTS included
Remote battery voltage sensor
Canbus communications
Listed to UL1741
Built in Arlington, WA USA
Add on a Rosie E-Panel (comes with required AC and DC input breakers, includes inverter bypass breakers)
ACCESSORIES
---

MNE300ROSIE-240P
-
$890.00
The Rosie E-Panel is an AC and DC enclosure offering over-current protection (OCP) and disconnects for AC IN, AC OUT, and to the battery bank.
---