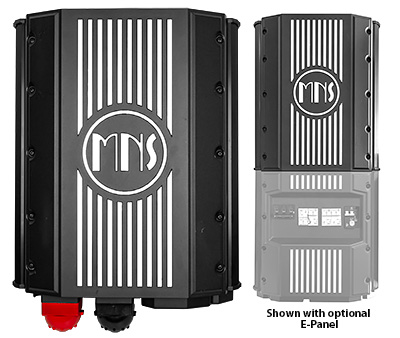 Model
Price
MAPP Price
Size
Shipping
Weight
MNROSIE7048M
$4,450.00
13-15/16 W x 20-9/16L x 8D
18 W x 23-1/4 L x 12-1/4D
43 lbs lbs
DESCRIPTION:
Introducing our latest innovation in power technology - our sleek and stylish Rosie inverter, designed and made right here in the United States. Powered by the latest silicon technology, this powerhouse can surge up to 3X its rating, yet remains incredibly lightweight, making it easy for a single person to install. Not only does our Rosie inverter deliver exceptional performance, it perfectly pairs with any of our MPPT chargers to create a seamlessly integrated and visually stunning power system. Together, they deliver an unbeatable combination of power and efficiency, Trust in the reliability and sophistication of our new inverter/charger to take your power system to the next level. Rosie Mobile has all the same features and performance of our standard RE Rosie with the addition of a neutral to ground bond switching relay and UL458 listing.
Neutral to ground bong switching internally
120v input auto sense for RVs that connect to 50A 120/240 or 30A 120
Provides 120 or 120/240VAC output in one unit
7000 watts / 48 volt DC
120 amp charger
2 aux input/outputs
True sine wave inverter with charger
Listings: UL1741, UL458 & CSA
Screened (gecko/mud dauber proof)
Quiet forced air cooling over heat-sink fins and transformer compartment
SOC monitoring with MidNite Wizbang Jr. and MNGP2
Die cast aluminum enclosure
Auto gen start (two-wire generators)
BTS included
Remote battery voltage sensor
Canbus communications
Listed to UL1741 and UL458
Built in Arlington, WA USA
Add on a Rosie E-Panel (comes with required AC and DC input breakers, includes inverter bypass breakers)
Reasons For Purchasing a ROSIE INVERTER!
The well designed and attractive looking ROSIE Inverter is easy to use and is extremely adjustable. A lot of the AIO (All-In-One) units miss the mark. They lack grid support functionality with the ability to add power from the battery to support loads greater than the AC IN allows as an example.
Reparability is an important feature of the ROSIE! Many of our large distributors are stocking boards to do field repairs. MidNite is rolling out a plan to allow installers buy boards at low cost to keep boards on hand.
The ROSIE has great redundancy, when an AIO fails it needs to be completely replaced. When a ROSIE or MPPT fails you can replace part of it and not lose the complete system.
The ROSIE or MPPT charge controllers (Hawke's Bay and Barcelona) will suffer no damage if the BMS or a breaker opens under full load. A lot of our competition will suffer severe damage if their units open the battery breaker under a heavy load.
The surge power on the ROSIE is second to none! MidNite has installers and distributors doing amazing things with ROSIE's surge power. I Ryan Stankevitz, personally watched a distributor's stacked ROSIES doing 9-10,000 Watts and we physically shut down the slave and the master just kept going. The single ROSIE would not be able to sustain such a severe overload for forever, but it performed incredibly. The lights didn't even blink! Starting motor loads is a cake walk for Rosie and she will start a 11kw 120v load on unbalanced legs. Try any of that with the Offshore AIO units.
The ROSIE has amazing flexibility in use and system scale/design. MidNite has heard a lot of feedback that the all-in-one inverters are a flash in the pan. Once you get into their functionality, you're forced into steps or sizes that are not convenient for the user's needs. For example, if 7kw of inverter and only 2 MPPTs is needed, 1 ROSIE and 1 Barcelona could be used vs two or three AIO that would end up with 6 MPPTs and only 2 needed.
The Hawke's Bay and Barcelona change controller's 185-600V window is one of the widest in the industry. MidNite has no issues if you are on the high side or low side, the Hawke's Bay and Barcelona work across the range. Actually, MidNite is working on a special algorithm to allow the Hawke's Bay and Barcelona to go down to 100v or lower.
The ROSIE'S system software can be update for future enhancements via blue tooth.
The ROSIE E-panel has a 120/240VAC 60 Amp AC bypass. The version of this E-Panel for stacked ROSIES has a 100 Amp AC Bypass. AIO inverters never have an AC bypass. AC bypass switches have been standard in North America for 30 years. When you live off-grid, an AC bypass switch is important.
The ROSIE E-Panel system (MNE300ROSIE-240P) has room for an additional 5 breakers. The stacked ROSIE system (MNE300ROSIE-240P100 and MNE300ROSIE-240F) has room for an additional 8 breakers.
ROSIE's E-panel accommodates 150VDC to 600VDC PV breakers plus the MPPT battery breaker.
The ROSIE E-panel accommodates SPD's (surge protection devices) for AC in, AC out, PV in and Battery circuits.
The ROSIE weighs only 43 pounds. Compare that to any other inverter in its class.
ROSIE's Power Save Mode drops idle power from 25 watts down to 5 watts when no loads are present.
The ROSIE has a multitude of aux features available from its two aux circuits. The most in the industry.
MidNite listens and makes the changes needed to make our product work the way the installers/users need.
If in the rare instance support is needed, MidNite's Support is just a phone call or email away!
THE ROSIE IS MADE IN THE USA!