Charge Controllers - Hawke's Bay & Barcelona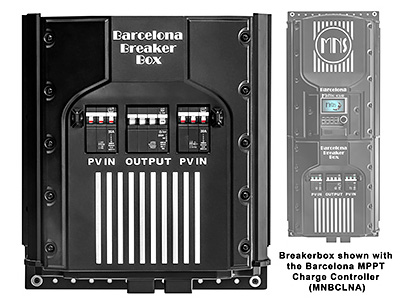 Model
Price
MAPP Price
Size
Shipping
Weight
MNBCLNA BB
$662.00
$499.00
15.88" x 13" x 8.63"
21" x 16" x 12"
17 lbs
DESCRIPTION:
The Barcelona breaker box (MNBARCELONA BREAKER BOX) The breaker box includes a 200 amp breaker for the battery side as well as dual 30 amp breakers for the pv inputs. It is made of die cast aluminum and powder coated to match the Barcelona.
Construction - Powder Coated Die Cast Aluminum
Battery Breaker - 200A/80VDC
PV input Breaker - 2@ 30A/600VDC
Maximum Wire Size - Input: 12-4AWG, Output 14-00AWG
Terminal Temperature Rating - 75C
Battery Over Voltage Protection - Standard using remote trip PV breakers controlled by MPPT
Weight and Dim - Shipping 21"x16"x12" 17lbs, Actual 15.9"x13"x8.7" 13lbs
Agency Listings - ETL listed to UL1741
Listed for US and Canada
ACCESSORIES

---

MNSPD-600
-
$135.00
The MidNite Solar 600V Surge Protector Device (MNSPD) is a Type 1 device per UL1449 rev3 and has an outdoor rating of 4X for outdoor use. Protection for grid-tie PV combiners and inverter input circuits.
---