Charge Controllers - Hawke's Bay & Barcelona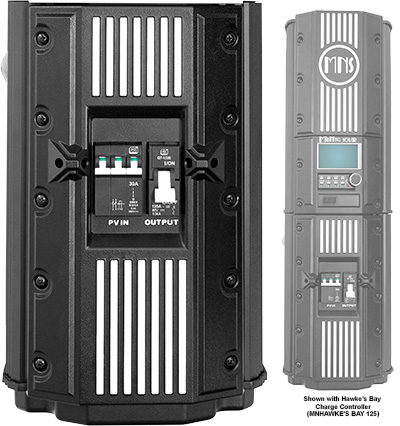 Model
Price
MAPP Price
Size
Shipping
Weight
MNHAWKE'S BAY BB 125
$384.00
$299.00
13.88" x 9.68" x 8"
19" x 12" x 10"
12 lbs
DESCRIPTION:
The MNHAWKE'S BAY BB 125 breaker box includes a 125 amp breaker for the battery side as well as a 30 amp breaker for the pv input. It is made of die cast aluminum and powder coated to match the Hawke's Bay.
Construction - Powder Coated Die Cast Aluminum
Battery Breaker - 125A/80VDC UL489A 10kA B16A
PV Input Breaker - 30A/600VDC shunt trip-able
Maximum Wire Size - Input: 12-4AWG, Output: 14-00AWG
Terminal Temperature Rating - 75C
Battery Over Voltage Protection - Standard using remote trip PV breakers controlled by MPPT
Weight and Dim - Shipping 19"x12"x11 12lbs, Actual 13.9"x9.7"x8" 9.5lbs
Agency Listings - ETL listed to UL1741
Listed for US and Canada
ACCESSORIES

MNSPD-600
-
$135.00
The MidNite Solar 600V Surge Protector Device (MNSPD) is a Type 1 device per UL1449 rev3 and has an outdoor rating of 4X for outdoor use. Protection for grid-tie PV combiners and inverter input circuits.
---

---