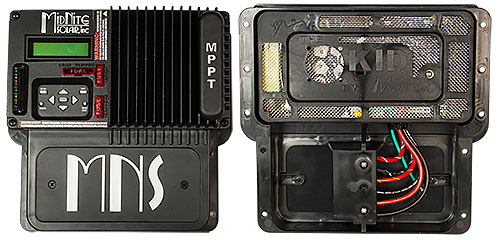 Model
Price
MAPP Price
Size
Shipping
Weight
MNKID-C1D2
$489.00
9.5"L x 6.6"W x 3.4"D
11.5"L x 11.5"W x 5"D
7 lbs
DESCRIPTION:
The KID now includes AGS (Auto Generator Start)

The most versatile and feature rich charge controller on the market is now also the largest Class 1 Div 2 certified MPPT Charge Controller!
Our popular medium sized charge controller, The Kid, has its Class 1 Div 2 certification. This means that it has been designed to safely operate in environments where flammable gases or vapors exist and have the potential to rise to ignitable concentrations. Couple this with UL 1741 and the UL458 marine supplement and not only is the Kid safe for operation in potentially explosive environments, it also meets very strict vibration, environment and thermal requirements.
Our C1D2 Kid still has all of the great features of the original: Auto Gen-Start, Hyper VOC for cold climates, a highly programmable load circuit with lighting control features and a programmable auxiliary control output for running relays or lithium battery management systems.
FEATURES:
Charges Lithium, Flooded Lead Acid, AGM and virtually any other chemistry.
Class 1 Div 2 certified
Conformal coated for harsh environments
Now includes AGS (Auto Generator Start)
MPPT Tracking
Type 1 environmental rating
True paralleling - Inputs and Outputs for two KIDs
Up to 150V input
MidNite's exclusive HyperVOC extends the input voltage beyond 150 VOC for cold climates
12V, 24V, 36V, 48V battery output
Lighting Controller: dusk-dawn, hourly, day, night settings
Up to 30 amps battery output with low input voltage based off of PV configuration
No fan
Reverse polarity protected
Battery Temp Sensor (MNBTS) standard with marine version only.
Front panel exchangeable fuses for battery, input and load/clipper.
3 LED bar graph for battery status at a glance
Keypad for access to extensive menu items and set points
Includes wall mount adapter (Optional boat mount bracket available.)
Sealed for harsh environments
Built in Arlington, WA USA
Warranty - 5 yrs.
California Residents: Warning