Inverter Systems, Pre Wired - Off Grid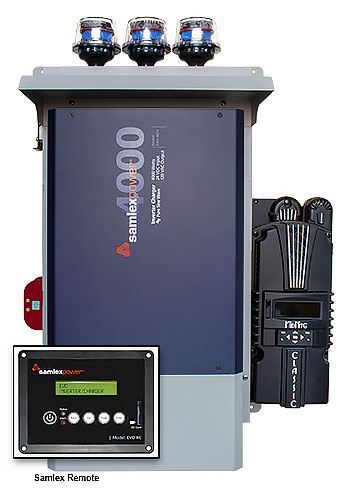 Model
Price
MAPP Price
Size
Shipping
Weight
MNEVO4024-CL150
$5,930.00
34"L x 34"W x 29" D Truck Freight Only
180 lbs
Model
Price
MAPP Price
Size
Shipping
Weight
$5,960.00
$6,190.00
$6,285.00
Export model 230 volts 50 HZ
$6,309.00
Export model 230 volts 50 HZ
$6,550.00
Export model 230 volts 50 HZ
DESCRIPTION:
Samlex 120VAC System.
Dual AC Inputs.
Off Grid.
4000 Watt/24VDC Inverter.
FEATURES:
Environmental Rating - Type 1 (Indoor)
Samlex E-Panel Gray steel E-Panel
EVO Remote
Classic 150 charge controller
Whizbang Jr (MNWBJR) current sense module for Classic, provides battery state of charge.
Two MNEDC panel mount breakers (for the Classic)
250 Amp Battery Main Breaker
DC-GFP - built into the Classic
Arc Fault Detector - built into the Classic
Three MNSPD-300 (Surge Protection Devices)
General labor for assembly, test and crating
MidNite BTS (MNBTS)
Samlex BTS
Listed by ETL for US & Canada
Price includes crating
Our pre wired e-panels can be ordered with any of the Magnum, Schneider, SMA or Samlex inverters. Please contact us for a quote if the Inverter model you need is not listed.
NOTE: MidNite does not warranty Samlex components.
California Residents: Warning
We DO NOT accept returns on Pre-Wired systems, battery cables or custom built equipment.