E-Panel - Schneider Electric XW
MNE175XWP-MASTER
MNE175XWP-MASTER or MNE250XWP-MASTER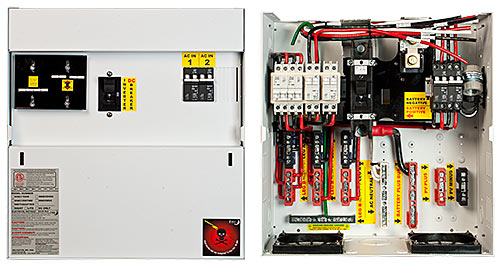 Model
Price
MAPP Price
Size
Shipping
Weight
MNE175XWP-MASTER
$1399.00
17" L x 16" W x 8.5" D
21" L x 21" W x 13" D
Actual, 38 and Shipping 40.5 lbs
DESCRIPTION:
Master E-Panel for a Dual Schneider Electric XW Plus inverter/charger. The XW inverter is mounted directly above the E-Panel for a 16 inch wide assembly.
Requires a Slave Epanel for the second XW inverter.


Color matched to the new XW+ by Schneider
Master E-Panel for use in a dual XW Plus system, Requires a Slave E-Panel as well.
Features:
Inverter battery breaker
2 separate 60 amp AC inputs for generator and utility
120 amp AC bypass switch
Knockouts for up to seven din rail mount breakers, including the DCGFP63 DC or AC Din Rail breakers and 12 panel mount breakers or DC-GFP80 breakers
Massive tin plated copper bus bars directly connect to the XW's battery terminals
Bus bars for AC inputs, AC output, neutral, ground, PV + in, PV- in, Bat +, Bat-
500 amp shunt (MNSHUNT)
Metal dead front behind the reversible door
Charge controllers mount to either side or both sides at once for dual controllers. (Note: The XW 60 amp controller can mount on the Right side only due to their isolated communications compartment)
The XW MPPT controller requires no mounting bracket. FM60, FM80 and Classic require Right or Left E-Panel charge control mounting brackets. Right hand bracket furnished standard.
Main Breaker Current Rating - 240A
Number of spaces - 19
Environmental Rating - Type 1 (Indoor)
Max. Wire Size - 4/0 AWG
Max. AC Voltage - 240VAC
Max. DC Voltage - 300VDC
Warranty - 5 yrs.
Listed by ETL for US & Canada
Made in the USA
Left hand Charge control bracket: $20.00 weight: 1 Lb.
California Residents: Warning
Model
Price
MAPP Price
Size
Shipping
Weight
$1399.00
$1399.00
17" L x 16" W x 8.5" D
21" L x 21" W x 13" D
Actual, 38 and Shipping 40.5 Lbs Lbs.
The MNE175XWP-MASTER-E is our Export version. It is the same E-Panel but with the proper color wires and proper breakers for a 230v 50hz inverter.
$1399.00
The MNE250XWP-MASTER-E is our Export version. It is the same E-Panel but with the proper color wires and proper breakers for a 230v 50hz inverter