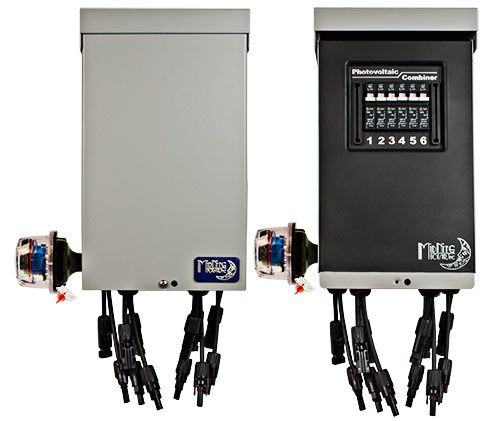 Model
Price
MAPP Price
Size
Shipping
Weight
MNPV6-MC4-LV-SPD300
$632.00
7 lbs
DESCRIPTION:
This 3R pre-wired MNPV6-MC4-LV-SPD300 combiner is rated for outdoor use.
The Pre-wired MNPV6-MC4-LV combiner with pigtails and 15A breakers is rated for outdoor use. The MNPV6-MC4-LV is rated for up to 80A 150V.
Type 1 environmental rating
Fast, Convenient hook up with industry standard connectors
All aluminum powder coated housing that won't rust
Flip up cover that can stay in the open position during installation
PV Negative bus bar with #6 and 1/0 connections
Chassis ground bus bar with #6 and 1/0 connections
The Included MNSPD-300-DC is pre-wired and installed for convenience
Included dead front cover (MNPV6DF) snaps into place after wiring is complete for safety
Additional knockouts on bottom and sides
Listed by ETL for US & Canada
Made in the USA
California Residents: Warning
ACCESSORIES

MNBIGBABY
-
$71.00
General use enclosure - holds up to 4 13mm wide din rail breakers from 1-63 amps.
---

MNEDCQUAD
-
$92.00
General use aluminum enclosure for 4 panel mount type breakers from 5 - 100 Amp.
---

MNDC-GFP63
-
$88.00
63 amp 150VDC din rail mount DC ground fault protector (NRTL listed breaker assy).
NEC2008 requires DC-GFP's on all solar installations.
---