MNSHUNT BUSBAR
(Previous Model Num: SHUNT BUSBAR)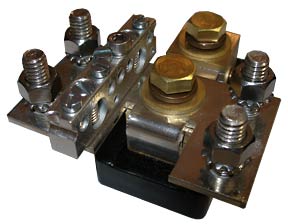 Model
Price
MAPP Price
Size
Shipping
Weight
MNSHUNT BUSBAR
$79.00
1 lbs
DESCRIPTION:
Mounts on 500 shunt. Same busbar used in the Nottagutter. Four 3/8 inch battery cable studs and six position aux terminal busbar. Made of tin plated copper.
Shunt sold separately. 500 Amp busbar.
Breaker and Busbar Torque Values
ACCESSORIES

MNSHUNT
-
$50.00
Shunt - This is the industry standard shunt.
---

---

---