MNBIGBABY
(Previous Model Num: BIG BABY BOX)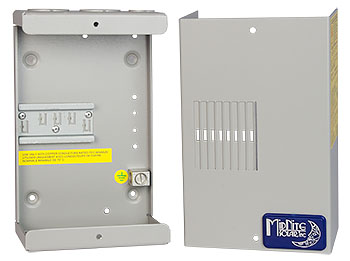 Model
Price
MAPP Price
Size
Shipping
Weight
MNBIGBABY
$71.00
8"L x 5"W x 3"D
9"L x 6"W x 4"D
3 lbs
DESCRIPTION:
General use powder coated aluminum enclosure - holds up to 4 13mm wide din rail breakers from 1-63 amps.
The original Baby box has been a huge success in filling an industry need. We have created an enclosure called the Big Baby to over come the Baby Box smallness allowing for a ETL listed 4 position din rail box. This box is about twice as wide as the baby box giving you more wiring room. It also includes a ground box lug and mounting provisions for our short insulated bus bar as well as a ground bus bar. A dimensioned drawing is under documents on our website.
FEATURES:
Environmental Rating - Type 1 (Indoor)
Big Baby's DIN rail accepts up to 4 breakers (not included)
Quad accepts up to 4 panel mount breakers (not included)
Breakers: 1-63A
Max. Wire - breakers 6 AWG
Max. AC Voltage - 277VAC
Max. DC Voltage - 300VDC
Warranty - 5 yrs.
Listed by ETL for US & Canada
Made in the USA
California Residents: Warning
ACCESSORIES

MNDC-GFP63
-
$88.00
63 amp 150VDC din rail mount DC ground fault protector (NRTL listed breaker assy).
NEC2008 requires DC-GFP's on all solar installations.
---

MNDC-GFP50-300
-
$153.00
50 amp 300VDC ground fault protector din rail mount (NRTL listed breaker assembly). 10,000 AIC
---

MNEPV 1A thru 63A
-
$22.00
150VDC din rail mount breaker available in 1 to 63 amps (13mm wide).
---

---

MNEPV-300 7A thru 50A
-
$46.00
7, 10, 12, 15, 20, 50 amp 300VDC din rail mount breaker. 10,000 AIC
Note: Branch circuit rated 489A
---

MNSBBN
-
$12.00
MNSBBN - 2.3" long. Two 1/0 & four #6 wire slots. 180 amps. Comes with mounting screw& nut #10-32 x 7/8". Made in USA, NRTL recognized.
---

MNSBB
-
$23.00
(Midnite Short Busbar) Shorter version of the insulated bus bars. These are useful for PV+ input on the narrow OB E-Panel and for a separate PV- bus bar for charge controllers that require them. 180 amps. Four #6 and two 1/0 wire slots.
---