Charge Controllers - Classics
MNSHUNT
(Previous Model Num: Shunt)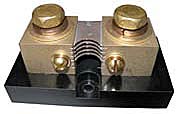 Model
Price
MAPP Price
Size
Shipping
Weight
MNSHUNT
$50.00
2 lbs
DESCRIPTION:
50mV/500amp includes taptite mounting screws. Has two 8-32 tapped holes on one end to attach a bus bar. This is the industry standard shunt.
The shunts are calibrated with an accuracy of +/- 0.25%.
Warranty
- 5 yrs.
California Residents: Warning
ACCESSORIES

MNWBJR
-
$81.00
The Whiz Bang Jr is a current sense module that attaches to the standard 50mv / 500A Shunt and wires into the Classic and KID charge controllers to give Amperage readings from the shunt. To use the Whizbang Jr (MNWBjr) with any of the Classic Lites, you will either need the local app or an MNGP.
---