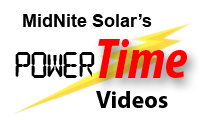 Educational/Training Videos
---
MidNite Solar Operations
If you ever wondered about how things are made here at MidNite Solar, checkout this 1 hour video on what we do.
Plant Operations
BoB Gudgel
---
THE BRAT
MidNite's New Charge Controller
May 18, 2015

After much anticipation we have released our Newest Charge Controller, the Brat. It is a 20 amp PWM Charge Controller featuring a 10 amp load circuit. It is efficient and small in size, but not on features.
Four LEDs indicate battery status and charging cycle and will display patterned blinking to provide feedback about fault conditions. It has a selectable low battery disconnect and unlike other charge controllers of its class it can charge dead batteries. Just Like its big brother the Kid, it has a load circuit complete with a customizable lighting controller. The lighting controller features a solar clock function that allows you to program a load such as lights to turn on and off at certain times and continue to turn on and off at those times even as the seasons progress and day length changes.
Its compact design and weather proof enclosure make it the charge controller that can go anywhere. From your off grid cabin, RV, or sail boat, to the back pasture running electric fence chargers or well pumps, it can do it all! In the tradition of all MidNite products it is proudly made in the USA.
Check out THE BRAT
By Raechel Clewley
---
Engineer Marines build new TACAN power supply

I understand that this may not be the typical reason for people to contact your company, but I feel required to give credit to a product you have that made a recent project feasible. I'm a Marine, who purchased a Midnite Solar Kid charge control system for a proof of concept deployable power generation mechanism. Your product worked brilliantly. It survived 100 + degrees and high humidity for the entire deployment. On top of that, it was able to use an enormous array of input sources to charge an out of the normal voltage range series-parallel configuration of proprietary battery packs. It effectively reduced the weight of anything else the USMC had to offer (solar wise) by almost 1000 Lbs. while maintaining the same efficiency and offering more options (like auto generator start and emergency on the spot battery reconfiguration.) I'm impressed. My command is impressed.
Thank you.
Gunnery Sgt. Michael Ott
---
TESTIMONIALS
See what people are saying.
Check it out!
---
The MidNite Forums
Come check out Our MidNite Solar Forums. Talk about our new PowerTime videos. How about our Classic local app? Or any of our other popular products!
Discuss them here with other users and us, Including our very own Ryan Stankevitz, the moderator. Ryan is a professional Solar and wind installer from Maine with a dozen years of experience in alternative energy. Not only is Ryan moderating the forum but he's also answers customer service calls! It is nice to be able to ask questions about products and actually get a person that knows the answers from personal experience.
Check out the MidNite forums
here
.
---
Company Profile
MidNite Solar is an innovative manufacturing company that started by making high quality, cost effective AC and DC disconnect boxes for the alternative energy industry. Now, MidNite produces a wide range of alternative energy products.
MidNite's Classic series of Maximum Power Point Tracking (MPPT) charge controllers are the most powerful, full featured controllers on the market as well as being the only ETL listed controllers designed to work with Solar, Wind, and Micro Hydro Electric systems.
MidNite offers a full line of pre-wired, battery based systems for standalone off grid, battery based grid tie, as well as AC coupled battery backup installations. MidNite features SMA, Schneider / Xantrex and Magnum Energy Inverters in our pre-wired systems, providing a wide range of solutions for residential and commercial projects.
MidNite Solar is the largest manufacturer of combiner boxes in North America. The new line of Disconnecting Combiner boxes are another industry first, meeting all of the new NEC requirements for this class of equipment.
MidNite's full range of Surge Protection Devices (SPD) offer the highest levels of protection from lightning and power line surges. They're very competitively priced.
This is just a few of the MidNite Solar products that are designed and manufactured in the Arlington Washington facility and installed in alternative energy systems around the world!
---
Facebook
Check us out on Facebook.
---
MidNite Solar
17722 - 67th Ave NE
Arlington, WA 98223
Phone: 360-403-7207
Fax: 360-691-6862
Walter Flores, Order Status
Office: 360.403.7207 Ext. 25
walter@midnitesolar.com
Roy Butler, Technical Support
360.403.7207 Ext. 150
roy@midnitesolar.com
Jim Parish, Technical Support
360.403.7207 Ext. 159
jparish@midnitesolar.com
Raechel Clewley, Technical Support
360.403.7207 EXT. 152
raechel@midnitesolar.com
Ryan Stankevitz - Sales Manager
ryan@midnitesolar.com
Office 360.403.7207 Ext. 151
Cell 207.416.2006
Kim Silva, Sales / Pre Sales support
360.403.7207 Ext. 153
kim@midnitesolar.com
Click
here
to access our online customer support center.
For more support options click
here
.
---